The Schedule
[Akule Sharma]
Akule finally has his birth certificate, SSN and his passport now. We are planning a trip to India next year [for my brother Ashish's wedding whenever that happens] and there are few things we have to check off from our list in terms of getting things done before we can fly.
Halona needs to renew her passport.
Akule's passport is finally here.
We have Akule's schedule of vaccines which will be done by early next year.
We will be applying for Akule's Overseas Citizens of India [OCI] Status soon. More on this later.
We have to check if there is anyone who wanted to come with us and let them know ahead of time so they can plan it accordingly. If you are reading this and you are interested, please email me and let me know. We will probably be going around March-April but arent sure yet.
Akule's Vaccine Schedule (Tentative)

First Pediatrics Visit – 9th Apr 08


– Hepatitis B Vaccine #1 – First of the 3 Doses.

1 month Visit – 5th May 08
2 months Visit – 9th June 08

– Hib Vaccine #1 – First of the 4 Doses
– RotaVirus Vaccine #1 – First of the 3 Doses.
2 Weeks – 23rd June 08

– PCV #1 – Pneumococcal Vaccine – First of the 4 Doses.
2 Weeks – 7th July 08

– DTap #1 – Diptheria, Tetanus & Pertussis – First of 5 Doses

2 Weeks – 21st July 08

– Hepatitis B Vaccine #2 – Second of the 3 Doses.
4 Months Visit – 7th August 08

– Hib Vaccine #2 – Second of the 4 Doses
– RotaVirus Vaccine #2 – Second of the 3 Doses.
2 Weeks – 18th August 08

– PCV #2 – Pneumococcal Vaccine – Second of the 4 Doses.

2 Weeks – 2nd September 08

– DTap #2 – Diptheria, Tetanus & Pertussis – Second of 5 Doses
2 Weeks – 15th September 08

– IPV #1 – Polio Vaccine – First of the 4 Doses
6 Months Visit – 6th October 08

– Hib Vaccine #3 – Third of the 4 Doses
– RotaVirus Vaccine #3 – Last of the 3 Doses.
2 Weeks – 20th October 08

– PCV #3 – Pneumococcal Vaccine – Third of the 4 Doses.
2 Weeks – 3rd November 08

– DTap #3 – Diptheria, Tetanus & Pertussis – Third of 5 Doses

2 Weeks – 17th November 08

– IPV #2 – Polio Vaccine – Second of the 4 Doses
9 Months Visit – Jan 09

– Hepatitis B Vaccine #3 – Last of the 3 Doses.[Due to Akule being sick with fever, cold and cough, this was postponed ]
 2nd Feb 09

– Hepatitis B Vaccine #3 – Last of the 3 Doses.
30th March 09

 Check up before leaving for India Trip.
12 months Visit – 27th April 09

PCV #4 Pneumococcal Vaccine – Last of the 4 doses. 
TB Test

26th May 09
19th June 09

Hepatitis – A #1 (Dose 1 of 2)

15 Month Visit – 6th July 09

HIB #4 (Last Dose)
15 month Well Baby checkup.

20th July 09
3rd August 09
18 Month Visit- 5th October 2009

Polio #3 -3rd of the4 doses.

Akule got his H1N1 shot few weeks ago. I will come back with the date.
13th Jan 2010
Rest is still in the air…
I am forgetting few important dates which i will have to come back and update but the schedule pretty much looks like what i drew above. I will follow this and keep it updated with the visits.
India's relationship with US of A allows for Dual Citizenships for Indian natives and their kids. As a result, Akule is eligible [Update Jan 19 09: It turns out Akule is ineligible for this until i become a citizen of US. But he is eligible for Persons of Indian Origin PIO Card which is very similar to an OCI but for 15 years instead of a one-time] for an Overseas Citizenship of India [OCI] Persons of Indian Origin [PIO] Card which exempts him from having to apply for Visa for life 15 years once he has this Card. According to Indian Embassy,
2. Persons registered as OCI have not been given any voting rights and are not eligible for election to Lok Sabha/Rajya Sabha/Legislative Assembly/Council or for holding Constitutional posts such as President, Vice President, Judge of Supreme Court/High Court etc. Registered OCIs shall be entitled to following benefits:

(i) Multiple entry, multi-purpose life long visa to visit India;

(ii) Exemption from reporting to Police authorities for any length of stay in India; and

(iii) Parity with NRIs in financial, economic and educational fields, except in the acquisition of agricultural or plantation properties.
[Excerpt taken from the site :http://www.indianembassy.org/newsite/oci.asp . A document explaining it in details is available at
(i) No requirement of visa to visit India:

(ii) No requirement to register with the Foreigners Registration Officer if continuous stay does not exceed 180 days. If continuous stay exceeds 180 days, then registration is required to be done within a period of 30 days of the expiry of 180 days:

(iii) Parity with Non-Resident Indians in respect of facilities available to the latter in economic, financial, educational fields, etc. These facilities will include:-

(a) Acquisition, holding, transfer and disposal of immovable properties in India except of agricultural/plantation properties;

(b) admission of children in educational institutions in India under the general category quota for NRIs – including medical / engineering college, IITs, IIMs etc.

(c) various housing schemes of Life Insurance Corporation of India, State Governments and other Government agencies;

(iv) All future benefits that would be extended to NRIs would also be available to the PIO Card holders;

(v) However, they shall not enjoy political rights in India.
See for more information. In essence, Akule can go to India anytime he wants for as long as he wants without having to worry about anything, using this Card. In other words, He will be entitled to all rights in India as much as i have, except for he cant compete in elections and that he must follow certain procedures before he can buy a land there.
Two important sites to learn more about this : Indian Embassy Site and the Ministry of Home Affairs.
Updated 27th June 08, 7th July 08, 6th August 08, 10th August 08, 6th September 08, 26th September 08, 9th October 08, 2nd November 08, 17th November 08, 19th Jan 09, 1st May 09, 26th May09, 19th June 09, 3rd August 09,8th August 09, 5th October 09, 10th Dec 09.
-A
Buying a Life Insurance
Life Insurance has been on my mind all this year. See this if you dont believe me.I bought a house this year and then we were blessed by God in the form of Akule.
Why do i need a Life Insurance? You may ask and i dont even have to think. I see Life Insurance as a backup plan for my family. The utmost important thing for me would be that Life continues for my loved ones in the way they see it today – sound and stable – without any financial hurdles; even in my absence. The next 30 years for anyone my age are the focal point of Life. We all are committed to raising a family and taking some risks in life for their betterment. This is the first step towards ensuring just that.
If you dont have anyone who depends on you financially, you dont need life insurance.
What are different types of insurance? Term and Cash Value. The former is fixed for certain pre-set duration and the premiums dont change during those years [10,20 or 30 years]. With Cash Value, your premiums are higher but you can make extra payments to invest the difference with the insurance provider into Equities. Term Life is the way to go for a lot of reasons. See how Suze Orman explains it in a great way.
Where can i buy a life insurance? Shop Around. Go to http://www.findmyinsurance.com/ or http://www.lifeinsure.com/ or http://www.reliaquote.com/ or http://www.quickquote.com/ or http://www.accuquote.com/ and you will see where you stand in no time. These sites will give you quotes instantly based on the data you provide to them. Once you get a Quote, you can always apply online or contact an agent for more questions.These Quotes are all free of charge with no obligations.
Note: couldnt give me any quote and http://insure.com quotes were way off. 
How much does it cost?  For a guy 30 years of age with no prior medical/smoking history, $500k of life insurance can be bought for an approximately $345 per year on a 30-year fixed term.
What to look out for? I will quote Clark Howard here.
"Just remember to buy insurance from only top rated companies, which means they have gotten a A++ or an A+ on the ambest.com Web site." — Clark Howard 
Make sure that this policy premium never changes for the duration of the term. Find out if the company is willing to give you options like extending your term without re-examination at any time, converting your term to something else if you wanted to, giving you some cash if you are very ill etc.
What are some of the factors that these companies take into account when deciding your premium? Your age, your medical history,  Smoking/Tobacco/DUI history if any, family history if any, how long the coverage is desired, how much coverage is desired, your location etc.
-A
Book Review: Rescue Your Financial Life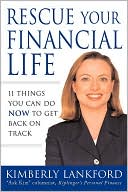 [Kimberly Lankford]
I just finished reading 'Rescue Your Financial Life' by Kimberly Lankford of the 'Ask Kim' columnist Fame from Kiplinger's Personal Finance and couldnt be more impressed with it.
I have been reading personal finance books for a while now and some of the books i read were total nonsense. I have read personal finance books that focused on charities and God in their chapters. I also read some books that criticized the nature of frugality in the balance of living life to the fullest. I also read books that went into details on author's autobiography and things that he did in his life that had no connection to what he portrayed in his book whatsoever. But this book is great!
It is a small and thin book of around 190 pages that takes you into all the aspects of personal finance from your 401k to your child's financial future without adding any junk to it. I have never seen so plain and to-the-point book before. The Edition i am reading came out in 2004 but the rules still apply. The book is just so concise and clear-cut that you wonder why you need books of 1000 pages for explaining why cars are bad investments.
We get it authors…. A car depreciates in value as soon as it comes out of the parking lot! Whats more to it than this really… is above my comprehension.
This book will not show you what stocks/bonds are the best ones to invest in…. if you are thinking in that direction. This book will tell you which investments are best for you and why and how you can save more money by learning about your tax situation.
This book is around $8 if you search for a used one. If you were to buy one book that will help you see your financial goals… this is it. You can read an excerpt of it here before you Go Buy it!
-Amit