Book Review: The ONLY investment guide you'll ever need by Andrew Tobias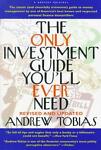 [The only investment guide you'll ever need by Andrew Tobias]
Jeff Clark, my ex-coworker, was giving away a load of books last year, when from the list of at least hundred or so books he broadcasted to us, my eyes stopped at this one by Andrew Tobias [and few Ric Edelman ones that you'll see in coming future]. The book is just very nicely written, if you put it in few words.
The humor of Andrew Tobias is visible throughout the book. He takes you through a series of steps towards financial knowledge with something fun to remember it by and it deserves a credit. The sections on Different types of Bonds and Stocks is explained with utmost care and cleanliness. I have read books where bonds and different securities are explained with their technical definitions but are left behind at that without any examples or trend towards what they would mean in today's economy. Andrew comes out ahead of all the authors in that sense. His definitions included a clear understanding of if a security type just described is something i should be interested in or not.
The book includes everything in personal finance from Treasure notes to Real Estate. His efforts to bring together most investment options are laudable in every sense. If you are expecting any stock or mutual fund picks in this book, you might want to invest in something else. This is a great book for understanding brokers' jargons and for something to refer to when you need clear understanding of stock market concepts.
Few References from the book[for myself]:
1) Call Wholesale Insurance Network [WIN] at 1-800-808-5810 for a free packet with quotes on a term-life insurance. Another one is Insurance Quote Services at 1-800-972-1104
2)  Cut your energy bill. Read Home Made Money, by Richard Heede.
3) Call Hotel Reservations Network at 1-800-634-6835. They buy blocks of rooms at excellent rates and resells it to us.
4) Read J.K.Lasser's 'Your Income Tax' for explanation of tax codes.
5) SEC filings are available at http://town.hall.org:80/edgar/edgar.html , free stock quotes [http://pawws.secapl.com], tons of mutual fund info at http://www.mfmag.com
6) Read a) A random walk down wall street by Burton Malkiel, b) One up on wall street by peter lynch and john rothchild, c) Buffett: the making of an american capitalist by roger lowenstein d) Guide to Successful no-load fund investing by sheldon jacobs.
A must-have for your shelf.
-Amit
P.S. See my review of The Smartest Investment Book You'll Ever Read by Daniel Solin
So Long 2008!
Wishing you all a very Happy New Year 2009.
2008 was a scary year for a lot of people and i am sure the historians have bookmarked 08 with a plenty of links. I say bookmark as i know it will take them a long time to recap all the countless events that took place that needs transcripts. Some of the them being:
1) Feds declaring that US Economy has been in recession since december of 07.
2) Gas prices soaring to $5.x earlier this year, kicking off concerns amongst regular consumers that something is not right.
3) Record Foreclosures owing to subprime lending was a clear indication that bubble burst will have a huge impact. We underestimated ourselves. The issue still looms.
4) The Auto giants – GM, Ford, Chrysler, begging Feds for help. The Help is on the way but the tunnel is still dark.
5) IndyMac goes bankrupt. CountryWide Financial sells itself to Bank of America. Bear Sterns sells for $2 to JP Morgan Chase. Washington Mutual became a penny stock. 158-year-old investment firm Lehman Brothers files for Chapter 11. Circuity City files for Chapter 11. Merrill Lynch sold to Bank of America. Fed Chairman Ben Bernanke cuts interest rate to historic zero and quarter percentage point. Fannie Mae and Freddie Mac sought Government's shelter. Citigroup stock was at its lowest. Unemployment rate is at its highest and so on and so forth. See it in Pictures
6) Terrorists attack Taj Mahal Hotel and several others in Mumbai,India killing 171 innocent people.
7) Mother nature didn't seem to happy with us again this year. All the wildfires,floods,earthquakes etc continued.
8) Dow Jones fell flat on its face.
I could go on with list all day but then thinking about George Bush being thrown a shoe lights up the situation. Last year, when i started writing journal, i wanted to share some of my observations with all so i can look back to it and see if my thoughts had made any sense. It is time now to jolt my memories of Last year's [2008] resolution and see where i stand.
2008 Resolutions: [see my last year's entry]

We will buy a term-life insurance this year.  Despite my enthusiasm and several quotes from the web, I did not buy Life Insurance last year. Why? I had made up my mind about going with AIG but a month into it, i learned AIG as a company isn't doing very well in the economy. Things from then on, just paused from there.
I will cut down on my GEICO Auto policy. I did live upto this resolution. See my coverage when i thought i was overinsured:
[My Over-Insured Auto Coverage above]
[Coverage Now. A savings of $200 per year]
I still dont have any IRA account. I do have an IRA now. I switched jobs this year and transfered my old 401k into a Roth IRA at sharebuilder.Even last year after i wrote my resolution on Jan 1, i was able to contribute towards my 2007-year. How come? Government lets you contribute to your last year's roth up until you do your taxes. For example, i still have up until 15th April 09 to put any money as my 2008's contribution into Roth.
I will build a will this year. I did infact buy Suze Orman's Will and Trust Kit last year but i did not prepare it yet.
I will hit the gym this year. I was regular for almost 5 months but then I started coming home late from work and didnt spend any time with Akule. I stopped around october.
I will visit a dentist this year. I did not visit a dentist last year.
I will buy a camcorder before the baby comes. Two things happened. My pal, Jason Punko was generous enough to give his Camcorder as a gift right before Akule was born [he saw my entry and inquired about it]. This was a life saver for me as i was able to capture Akule's hospital videos on tape. Last month, I saw a great deal on tigerdirect for a mini DVD Canon camcorder for $170 and decided to invest in it. It is refurbished and only the time will tell, if this was a money well-put or not.
My Resolutions for this year [2009]:
We will buy a term-life insurance this year. I would like to continue my last year's resolve and accomplish this soon.
I will build a will this year.Same thing here. I already have the documents now. I just need to prepare them and store them somewhere.
I will visit a dentist this year. Now that i am on my Company's Excellent Insurance plan, I will make an appointment soon. Luckily, Linda, our neighbor works for a dental office and she volunteered to help me with the appointment and maybe some discount. I am grinding my teeth continously.
I will buy some jeans this year. All my jeans are torn and not good for office use.
I will continue to contribute to my IRA again this year. I have 3 and a half months to come up with it. If you would like to lend me $5k at a decent rate for a few months, contact me.
I will expand Halona's Kurti business. The first step was to put these shirts or Kurtis up on the website [www.halonacreations.com] . We will expand this into its own domain with more inventory and a newer look.
I will find time for gym. Just enough time so i dont miss out on Akule's activities.
I will rebuild my emergency fund. With my recent investments, i have run out of any liquid cash in my accounts.
Site Statistics:
My Journal Traffic has been consistent in its numbers since the beginning. I had 2691 visits from 67 countries last year.
[www.amitsharma.us site statistics: 2691 visits from 67 countries]
[2032 visits from 47 states]
Most visits were from USA with 2032 visits from 47 states and then from India with 346 visits via 37 cities. If you hadn't noticed, I added a new journal Topic 'Book Review' last year where i read a finance book and tell you if you'd want to spend money on it. Along the way, i'd share what i learned from the book and why its a good read with links and other resources.
Enjoy some christmas pictures here.