Book Review : Stocks for the long run by Jeremy Siegel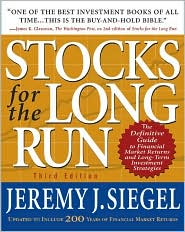 Why do these publishers print books that will need four hands to read? Stocks for the long run by Jeremy Siegel, Third Edition, could have been much more slurpier if it was a small book i could hold within my fingers. Putting aside the inconvenience of the book size, this one is a classic. Btw, Future for investors by Jeremy that i recently read gets an all hands up [and not just two thumbs] for its size.
The book is set again in 2001 with a careful and astute analysis of stock market that will open your investing eyes as you read it. I would like to emphasize the ease of comprehension Jeremy offers with his books. The gentle read makes your weary day fade into the fan noise as the stock market is unfolded for you by this book. Burton Malkiel's Randow Walk down wall street was a totally different story in that respect. Actually, the book provides a little reference to the Malkiel's book in saying how you could time the market if you follow the 200-day moving average and that although buy-and-hold strategy is almost true in all cases, there is a sense in trying to find a pattern in the stock market, if you follow the history.
Jeremy then went ahead and explained how September is a bad month for stock market, how mondays are slow day, fridays are very active, January is a great month for small stocks, irrespective of which stock market you are refering to. I thought few chapters before 'behavioral finance' that delved into stock options, futures, Volatility index were too descriptive and boring for me. The new chapter on Behavioral finance brings back the enthusiasm again into the book where i was able to relate the discussion tone of that chapter into some of what i had experienced in the past. The rest of the book was a breeze and went by very quick.
I would have loved to see some final words from Jeremy in the last chapter. There was no advice as to what an investor can do after learning all the valuable information from the book. There was a dull section for me, as described above, where i thought Jeremy tried to indicate that S&P index following wasn't such a good thing and that following the market will require you to buy and sell, if not more often, for further gains. I don't think i can quote anything solid but Jeremy got out of that talk quick and resumed his poised study of the market. The book doesn't go into portfolio allocations at all and doesn't warn about good/bad practices of the market. The book is more like a documentary movie that lets you interpret it in any way you would like it. It does not form any opinion of its own.
In contrast, Future for Investors is definitely a sequel to this one and will complement the read if you end up with this one before it [unlike me who read the Future for Investors first]. But if you end up with Future for investors first, don't let that one get by from you!
-A