Book review: A Wrinkle in Time by Madeleine L'Engle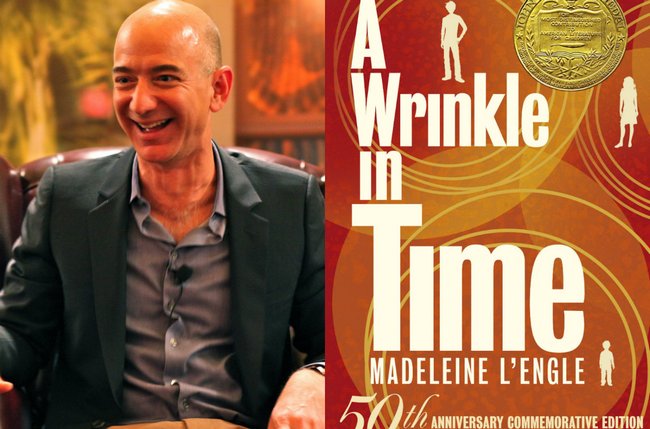 [A Wrinkle in Time by Madeleine L'Engle]
This was referred to me via an article that put this book on Jeff Bezos' recommended reading list and I must say I was not disappointed.  I didn't realize it was something you would have read in schools if you grew up here. Also, I incorrectly thought this was one of the books Jeff recommended to other executives.
I got the audio book from library which was read by none other than the wonderful and eloquent author herself. Her accentuating dialogues and personification of the characters (Mrs. Whatsit, Mrs.Who, Mrs which, Charles Wallace, Meg Murry, kelvin okeefe et al) were naturally excellent and I was able to visualize all in the book without much trouble. [The movie with the same name doesn't do any justice if you are curious].
The story revolves around a family of a scientist whose husband, a physicist, is missing for a whole year and there are rumors of him leaving the family which consists of two regular 10 year old twins (Sandy and Dennis) and two more kids with high IQ and anti-social behaviors – one 5 years old boy named Charles Wallace and another 12 years old girl named Meg Murry.
What is unclear in the beginning is a project Mr. Murry was working on that is confidential in nature and no one knows about, which may explain his reason for disappearing. The book takes you into Meg's character and her perspective of what is going on around her. Meg and Charles Wallace, eventually end up bringing their father back from an outer world with the help of a neighbor and three special friends.
What makes this book stand out is the possibilities the book opens up your mind to, especially if you are reading this in your first or second grade. I can only imagine dreaming about this for days and nights as a young and curious mind. The science fiction aspect of the book are something an adult mind wouldn't bother stretching and may not get involved as much.
This'd make a great gift for a 7-8 yrs old!
-A
Book review: Guns, Germs, and Steel by Jared Diamond
[Guns, Germs, and Steel: The Fates of Human Societies by Jared Diamond]
My favorite book of all time.
I have never read any book in my entire life like this one. It is 440 pages or so of pure knowledge and answers to who we are as humans and how it all started 10,000 years ago – when the ice age ended.
The convincing power of the author is absolutely mind-blowing. The density of the facts the book imparts makes you appreciate the hard work author had to put in to compile this vast and unfathomable discovery of explanations for why certain societies grew more than the others. The chain of events are so in-grained in the book that you can't possibly move forward without noting down the history and time for them. The societies are linked in the book by this time frame as snapshots that provide clear picture of where everybody was at a particular time. The book is so dense that my copious notes failed after few chapters and I couldn't let my writing slow down the interesting citations from the author.
I was disappointed to see almost no mention of India in any of the societal reference to advanced civilizations despite the touting that was apparent to me growing up. The book is so honest and truthful that I couldn't get any time to doubt the author. The references cited in the book alone probably consumed a lifetime of reading for the author.
Author starts each chapter with a basic summary of what's to come with some important questions we must ask ourselves during the explanation. once the facts were laid out, the questions were bent to resurface as further interrogations to clarify the reasoning.
I feel so much more intelligent after having read the book.
-A