Book Review: The ONLY investment guide you'll ever need by Andrew Tobias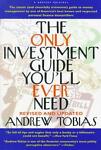 [The only investment guide you'll ever need by Andrew Tobias]
Jeff Clark, my ex-coworker, was giving away a load of books last year, when from the list of at least hundred or so books he broadcasted to us, my eyes stopped at this one by Andrew Tobias [and few Ric Edelman ones that you'll see in coming future]. The book is just very nicely written, if you put it in few words.
The humor of Andrew Tobias is visible throughout the book. He takes you through a series of steps towards financial knowledge with something fun to remember it by and it deserves a credit. The sections on Different types of Bonds and Stocks is explained with utmost care and cleanliness. I have read books where bonds and different securities are explained with their technical definitions but are left behind at that without any examples or trend towards what they would mean in today's economy. Andrew comes out ahead of all the authors in that sense. His definitions included a clear understanding of if a security type just described is something i should be interested in or not.
The book includes everything in personal finance from Treasure notes to Real Estate. His efforts to bring together most investment options are laudable in every sense. If you are expecting any stock or mutual fund picks in this book, you might want to invest in something else. This is a great book for understanding brokers' jargons and for something to refer to when you need clear understanding of stock market concepts.
Few References from the book[for myself]:
1) Call Wholesale Insurance Network [WIN] at 1-800-808-5810 for a free packet with quotes on a term-life insurance. Another one is Insurance Quote Services at 1-800-972-1104
2)  Cut your energy bill. Read Home Made Money, by Richard Heede.
3) Call Hotel Reservations Network at 1-800-634-6835. They buy blocks of rooms at excellent rates and resells it to us.
4) Read J.K.Lasser's 'Your Income Tax' for explanation of tax codes.
5) SEC filings are available at http://town.hall.org:80/edgar/edgar.html , free stock quotes [http://pawws.secapl.com], tons of mutual fund info at http://www.mfmag.com
6) Read a) A random walk down wall street by Burton Malkiel, b) One up on wall street by peter lynch and john rothchild, c) Buffett: the making of an american capitalist by roger lowenstein d) Guide to Successful no-load fund investing by sheldon jacobs.
A must-have for your shelf.
-Amit
P.S. See my review of The Smartest Investment Book You'll Ever Read by Daniel Solin
3 Responses
Leave a Reply