Famous Five: Five places to look up a house's worth
House values have taken a huge dip in the past year and a half and things are only going to go down from here for another year, so they say. If this is a good or a bad situation depends on how you see it.
If the house values go up, can it be a good thing for you? No, if you are a buyer and Yes, if you are a seller. House values going down could potentially indicate mortgage rates going up, which is a bad thing for you but good thing for banks and money lenders. Mortgage rates going up could mean lower bond rates which is a bad thing for people who have invested in these securities but a good thing for stock-investors as the stock prices reflect the market which in turn dictate the interest rates. And this vicious circle never ends.
I believe this time is good for securing a home loan atleast since this is the first time i have seen lower mortgage rates and lower sales price at the same time [i am not that old remember]. The current average interest rate for the Washington DC suburb area is close to 5.82% as of today according to the bankrate.com. Last year they were approximately 6.625% when the house values were still pretty high. This is a buyer's market and if you are looking to buy a house, you are in for a too much treat.
The Lenders are probably giving these potential buyers all kinds of incentives that will lure them into buying their houses. It calls upon these buyers to do their research and carefully evaluate which houses are really worth the money that is being advertised and if these incentives are indeed a way to get out of the market slump and not just a scam of handing you a wooden structure that looks like a house.
The question and my target of today's interest is where do you go to see what is the real value of the houses in the neighborhood you are looking to settle in and if you are really getting the biggest bang for your buck. Here comes my famous five in no particular order:
#1.
If you live in the DC Area and you haven't heard of homesdatabase.com, you either haven't bought a house or your research is still pending. It is the largest database of the properties that you can find anywhere on the web and the site is dedicated to just one thing – what its name indicates. This site has been around for a while and although not as savvy as other sites on my list, i wouldn't underestimate the traffic of this site.
#2.
Zillow.com is awesome. I remember when they launched few years ago [i only read it in some article, thanks to Brett], they did it with a bang and the site just exploded with the amount of traffic they got from the very beginning. I remember seeing the site developers on some video where they explained what it took to build the site [Tapestry, Java, Spring etc] and how they were able to tap into the market that was looking to be drawn into these technologies. I really like how they have grown into a successful business where they come up with new ways to bring back the users [ Zestimates ] and stood up a community of lenders around them. I am not sure if they have really turned it into a money-making business but i wouldn't be surprised if they turned tables on the investors.
#3.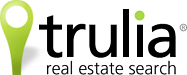 Trulia.com is a newcomer with a great potential. I just love the site layout. You ask for a neighborhood and you will get a list of properties that are on sale [just like others on my list] and great statistics that relate to the area i am interested in. You will get a map and the links that are pertinent to the information you are seeking, all in one place. Whats not to like? Its all web2.0 after all.
#4.

Long and Foster has seen it all… isn't it? They have been around from the time our grandparents dreamed of owning a home. It has been a long and a foster time since then and they aren't getting any old. I dont know anyone who doesn't know what they do and they are surprsingly the most famous of all on my list. They are a household name throughout the country. They have caught on with the services others are providing like maps, nearby homes for sale, financial details, email a friend etc. and house values are just one of the things they excel in. way to go!
#5.
remax.com has an established background for residential and commercial real estate industry. Providing a tool for property values was inherent. Their search is scoped out for specific addresses that you must know of. Nevertheless, the site is worth checking out.
I have said this always. I am by no means an expert in any of the areas i write about. My opinions are jotted here to provide mere options and can be used as a starting point. If there is anything that i am overlooking in my evaluations, please let me know and i will make sure to update my journal, if need be.
rent or own?
-A
3 Responses
Leave a Reply