Book Review: Rescue Your Financial Life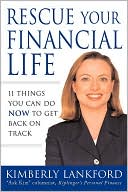 [Kimberly Lankford]
I just finished reading 'Rescue Your Financial Life' by Kimberly Lankford of the 'Ask Kim' columnist Fame from Kiplinger's Personal Finance and couldnt be more impressed with it.
I have been reading personal finance books for a while now and some of the books i read were total nonsense. I have read personal finance books that focused on charities and God in their chapters. I also read some books that criticized the nature of frugality in the balance of living life to the fullest. I also read books that went into details on author's autobiography and things that he did in his life that had no connection to what he portrayed in his book whatsoever. But this book is great!
It is a small and thin book of around 190 pages that takes you into all the aspects of personal finance from your 401k to your child's financial future without adding any junk to it. I have never seen so plain and to-the-point book before. The Edition i am reading came out in 2004 but the rules still apply. The book is just so concise and clear-cut that you wonder why you need books of 1000 pages for explaining why cars are bad investments.
We get it authors…. A car depreciates in value as soon as it comes out of the parking lot! Whats more to it than this really… is above my comprehension.
This book will not show you what stocks/bonds are the best ones to invest in…. if you are thinking in that direction. This book will tell you which investments are best for you and why and how you can save more money by learning about your tax situation.
This book is around $8 if you search for a used one. If you were to buy one book that will help you see your financial goals… this is it. You can read an excerpt of it here before you Go Buy it!
-Amit
Comments
No comments yet.
Leave a Reply