The festive Occasions.
Is it a girl? I think so. We had our second visit on 2nd Oct [i need to catch up on my dates soon] and our alien showed some spine, finger bones, and a big head [cone heads… dan akroyd, anyone]. I have a strong feeling that we are having a girl. Doctors and the baby needs some more time before i can start thinking of names for her. I actually have had more thoughts about it being a girl than it being a boy….as you can tell.
Lindsley and Brett think its a girl too… they are having a baby boy in February and they showed us their baby's [ named Zaiden Levi Rogers] ultrasound to us. Judging from how low their baby sits in the womb, i am convinced ours is a girl. Now thats not the only reason…………. I just know its a girl.
Talking about festive occasions,This is such an auspicious time for indians. We have some very important festivals in the coming few weeks. The one that is just around the corner is Dussehra.The burning of Effigy of Ravana, the evil who abducted Lord Rama's wife Sita, as the fable goes, commemorates the victory of good over evil.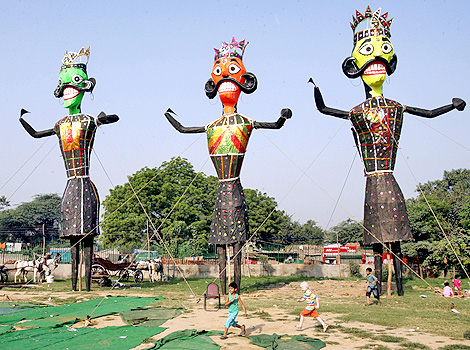 On this day, Lord Rama – another of Vishnu God's reincarnation – kills Ravana and frees his wife. The story was believed to have been written as 'Ramayana' – the Epic. It clearly mentioned Rama being a prince from north-eastern indian state Uttar Pradesh, while Sita being from Janakpur, which is western Nepal as it stands today ….. makes perfect sense, these two places arent that far apart and this could have taken place in real life, only umpteen hundred years ago, who knows.
Anyways, the Epic depicts Rama having some supernatural powers and weapons that only a godly creature would posess.
The Epic went too far for scientists' mindframe where it talked about – Hanuman, – the monkey god and Ram's biggest devotee, flew several miles across the ocean to look for Sita, who had been abducted by Ravana, the king of Lanka. Lanka as you know is the none other than Sri Lanka, our neighboring country. As if that wasnt enough, the epic mentioned a man-made bridge built between India and Sri Lanka by the army of Rama as their passage to get to the other side. Enough said about Epic – i can see smirks on the faces of scientists.
Fast forward, It is year 2002. NASA is looking into indian ocean for some reason, i dont know why and LO!
Behold my fans! take a deep breath and see below.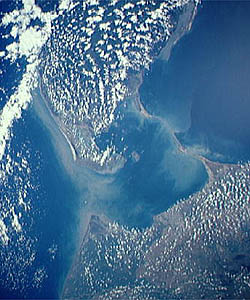 take another look,as if you didnt catch that.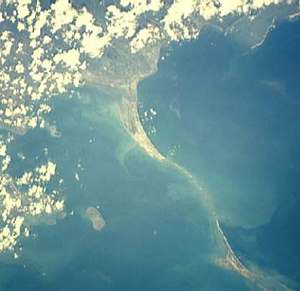 What you are looking at is a real NASA Image of something that looks like a submerged bridge [did i have to say that really] between india and sri lanka.
What…..!!! All these years we have believed our Holy Epic to be so true that there was no doubt in the minds of us Hindus that this could EVER be proven. But guess what you all those rational, logical, non-fictional-believers, its-an-epic-not-real scientists.
Need i say more!. Enjoy the story here.
-A
Comments
No comments yet.
Leave a Reply